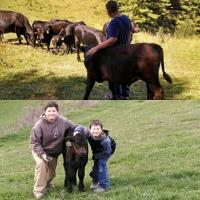 Old Beech Mountain Farms
Contact: Rodney and Tracie Presnell
Address: 1114 Andy Hicks Rd Banner Elk, NC, 28604
Email Address: Presnellfarms@yahoo.com
Phone: 828-964-1695
About Us
Email: presnellfarms@yahoo.com

We are a family farm located only 12 miles from the food hub. Rodney and Tracie and our two boys Clay and James, who feed and water hogs and cattle all year long. In the hot of the summer and the cold of winter. What we sale is born and raised on our farm here in Watauga co. at the foot of Beech Mtn. also we are licensed and USDA inspected, we take pride in growing the best beef and pork we can for our customers. We have been raising beef and selling locally for over 20 years. Enjoy our Farm to Your table.
Practices
There are no growth hormone or antibiotics used in our Beef ever.