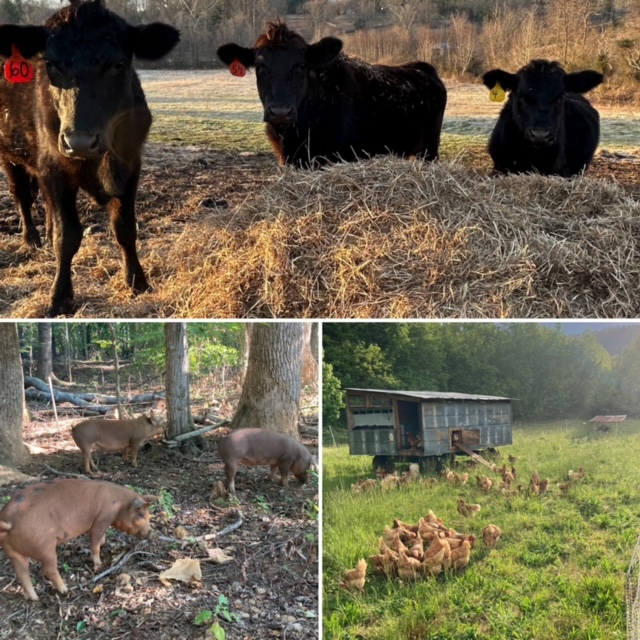 Forgotten Ways Farm
Contact: Chis Hampton and Kevin Lovill
Address: 4945 Wilkesboro Hwy Statesville , NC, 28265
Phone: 980-207-9666
About Us
We are a small farm located in Statesville, NC dedicated to preserving the land and raising healthy animals in order to nourish our family and community.

We focus on the wellbeing of the animal
— allowing them to exhibit their natural
behavior and feeding on their natural diet as much as possible. We use our farming practices only to manage the forages and land our livestock graze. We feel our holistic livestock approach offers the most nutrient dense products available to our family and yours.
Practices
Woodland Raised Pork
In the wooded acreage of our farm, we raise a mixture of heritage breeds including Duroc, Berkshire and Hereford which ensures high quality genetics that lead to tender, flavorful, and well-marbled meat. Our pigs are supplemented with an organic non-corn/non- soy feed and fed a twice-a-day ration instead of access to a full-time feeder. This ensures their diet comes from foraging and is as close to their natural diet as possible. Our pigs are raised without the use of any synthetic inputs which includes dewormers, vaccinations or antibiotics.

Grass-Fed Beef
Our cows and pastures are managed daily throughout the growing season as close as we feel they would be in nature. This means cows are moved daily to manage forages, fertility distribution, and soil recovery. Our livestock at Forgotten Ways Farm is raised without the use of vaccinations, dewormers, or antibiotics. Our beef is raised on pasture 365 days a year only feeding on is natural diet, along with a supplement of hay in the winter months.