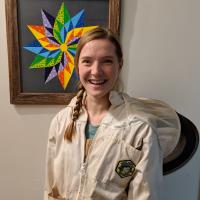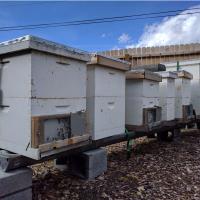 The Hive Bakery LLC
Contact: Genevieve Sanders
Address: 169 Rogers Drive Boone, NC, 28607
Phone: 828-773-9250
About Us
Email: genevieve@thehivebakery.org

Located 2.4 miles from the High Country Food hub, bee hives are at two locations, 2.4 and 7.7 miles from the Hub.

The Hive is a beekeeping bakery located in Boone, with bees at two sites (Boone and Foscoe) in Watauga County. We produce a variety of handmade baked goods, and we raise honeybees and grow select items for use in our baked items. So far we provide our own supply of chives, raspberries, blueberries, ramps, rosemary, and of course honey! For ingredients we don't produce ourselves, we look for the highest quality ingredients the High Country has available. Our mission is to provide you with a memorable treat that brings joy to any occasion. In the coming years, we hope to expand our bakery garden and our pollinator garden.
Practices
We like to start our baking process with high-quality, locally-sourced ingredients, growing/producing our own at times, and supplementing with items from our wonderful local farmers! Once we have the right ingredients, it's equally important to handle them appropriately in order to bring out their best qualities. The Hive maintains about 20 beehives, and keeps a diverse pollinator garden to attract and support native pollinators. We also compost all organic matter involved in our baking operations, which then feeds the soil in our gardening operations.