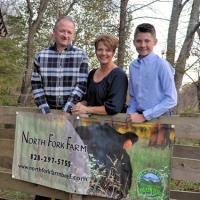 North Fork Farm LLC
Contact: Jimmy and Sheila Greene
Address: 680 North Fork Rd. Zionville, NC, 28698
Phone: 828-297-5755
About Us
Email: northforkfarm@skybest.com
Located 11.6 miles from the High Country Food Hub.

North Fork Farm is a small family cattle farm located in the mountains of Watauga County, North Carolina. We raise mostly Angus cattle, with some mixed Charolais breeds. We are very pleased to provide our friends, neighbors, family and you with Appalachian Grown certified meats. Our cattle herd is supplemented with calves purchased from other local farms. This help with sustainability within our local area. We employ our family, Jimmy, Sheila and Seth to run the farm. Jimmy works off the farm also, this is Sheila's full time job. Seth helps, when not in school or enjoying his other activities. Cattle have always been a part of our lives, and we pride ourselves in having the highest quality of beef available. We have been a part of the local meat sales in Watauga County since 2009. We believe it is very important to know where your food comes from. We have been blessed to be able to bring you the same quality of meats that our family enjoys on our table. North Fork Farm values long-lasting relationships with its customers and strives to continuously exceed their expectations with the finest quality meats. Members of the NC and Watauga Cattlemen's Association.
Practices
Our cattle are pasture raised, without added growth hormones or antibiotics. They are grass fed, and grain finished, for quality marbling and excellent flavor. We have sustainable practices that we follow on our farm, and are Appalachian Grown Certified.