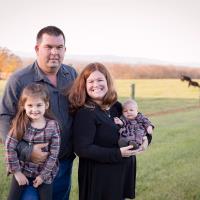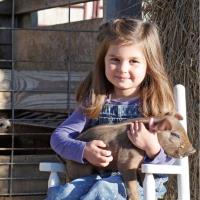 CS Farm
Contact: Chad and Mary Sale
Address: 2089 Cedar Forest Rd PO Box 303 Ronda, NC, 28670
Email Address: CSFarmNC@gmail.com
Phone: 336-526-8038
About Us
CS Farm produces Angus Beef, Duroc/Hampsire Hogs, Katahdin Sheep, various breeds of chickens, turkeys and ducks. We also are expanding to include fresh fruit and vegetable operations. CS Farm was established in 1998 by Chad. Chad grew up raising hogs and cows with his grandparents. He attended East Wilkes High School where he was an active member in the FFA. Chad's experience led him to attend NC State University. After graduating NC State with a poultry management degree, Chad worked for three nationally known commercial poultry companies. While that was excellent experience, it taught him there were better ways to sustainably raise a premium quality bird in a more natural environment than CAFO Farms. He knew he wanted to develop his own flock of poultry. While researching the best birds to raise, the heritage birds capability to reproduce and hatch without human intervention impressed Chad to the point that this was where he dedicated his work, especially with Buff Orpingtons. He built his own hatchery which is capable of hatching 400-600 eggs per week. Having the breeding stock on site, as well as hatching on the same premises, virtually eliminates biosecurity risks being brought in by outside flocks.

Although Chad went to NC State for poultry, he took all his electives in swine management. Their diversified diet, rate of reproduction, the versatility of butcher cuts, and the fact that they just taste good make the hogs Chad's personal favorites on the farm. Through experiments with many hog breeds, the Duroc consistently outperformed all others. This breed is well known for their growth rate, large hams, a long loin, and a darker red meat. Chad found that crossing the Duroc with a Hampshire produces a red colored pig with a white belted shoulder. Crossing with these two breeds creates a vigorous pig with excellent growth rates and a better fat content with butcher sized hogs. The Duroc/Hampshire cross is very well suited to pasture life in all seasons in western North Carolina. This cross, in addition, has a very calm temperament. The sows and boar are ready at all times for back and ear scratches. The pigs are accustomed to daily handling from birth until they are loaded to go to the butcher.

Chad ran the farm by himself until October 18, 2008 when Mary joined the operation. Although she had no experience with chickens and hogs, she was raised on her family's farm in Surry County raising cattle, tobacco and hay. Mary enjoys helping Chad with the farm when she isn't at Ronda Clingman Elementary school, where she is a teacher. In November 2012, the first baby born on the farm made her appearance. Anna came into the world and has been Chad's right hand ever since. She loves the chickens, hogs and is a big help when it comes to feeding the animals and picking up eggs from the nest boxes. Adlea, the second baby girl, was born October 2017. She already loves watching the chickens through the window.

There are also two sawmills on the farm that makes infrastructure improvements more economical and is very handy for sawing garden stakes. We even sawed much of the lumber for our on the farm store where we also sell our products located at 2089 Cedar Forest Rd in Ronda NC 28670.
Practices
CS Farm raises Pasture Raised Pork, Beef, Lamb and Poultry in eastern Wilkes County NC. Owning the breeding stock for all of our livestock, and growing our own feed ingredients ensures an unmatched, consistent product to our customers. We grow Non GMO grain crops without chemicals or herbicides. All livestock is sustainably raised without the use of growth hormones or antibiotics. 2018 will be our first year utilizing a greenhouse to raise our own vegetable starts and we will hopefully have tomatoes and peppers produced in the greenhouse ready to harvest on May of 2018. CS Farm strives to grow and propagate open pollinated crops where we can save seeds in a sustainable and economic manner. Crop rotation, tillage, and utilizing compost for our crops' nutrition greatly reduces any need for commercial fertilizers. Our farm's mission is to sustainably farm and leave a better opportunity for the next generation that farms our land.