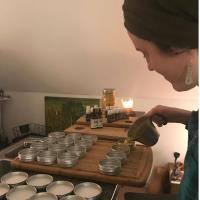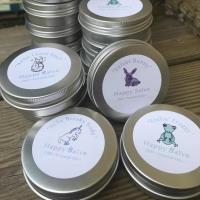 Happy Salve
Contact: Christina Bailey
Address: 175 Frank Mast Rd Banner Elk, NC, 28604-8530
Email Address: happysalve@gmail.com
Phone: 828-719-1670
About Us
Email: happysalve@gmail.com
Located 10 miles from the High Country Food Hub

Happy Salve is my CBD and Essential Oil product line that I create in my home at the Valle Crucis Lavender House where I am a resident Massage Therapist and producer. The Valle Crucis Lavender House is located in the heart of Valle Crucis in Watauga County. My mission in life and business is to facilitate holistic health, healing and joy in myself, others, and the natural world that we are a part of. In addition to being a massage therapist and body care product creator I have also been involved in work that aims to support our local food system for years. I am now serving as the farmers' market manager for Blue Ridge Women in Agriculture's Winter and King Street farmers' markets.
Practices
I use quality, pure, effective ingredients in my salve. My CBD Oil comes from the local company Blue Star Hemp. In addition to CBD oil and Essential Oils I use local beeswax from Faith Mountain Farm and The Hive and Non-GMO Coconut Oil. The unique properties of all of these magical ingredients and the specific blends were carefully chosen to assist in the body's best healing processes.