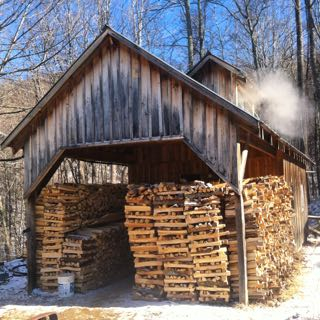 Waterfall Farm
City: Warrensville, NC,
Email Address: maplesyrup@waterfallfarmnc.com
About Us
email: maplesyrup@waterfallfarmnc.com
Instagram: @WaterfallFarmNC
located: 30 miles from the High Country Food Hub

We are a two generation family farm producing pure maple syrup from 25 acres of our native forest on the northwest facing slopes of Three Top Mountain in Ashe County, North Carolina.
Practices
We tap both sugar and red maple trees, which are native and abundant on our land. We collect thousands of gallons of sap each year during our sugar season, which runs from late January through early March, and we then boil it down in a wood-fired evaporator in our hand-made sugar house. This year we set 567 taps, collected roughly 7,000 gallons of sap, and we boiled it down to just 115 gallons of precious, delicious, pure maple syrup.

This is a wild-crafted product- No pesticides, fertilizers, or chemicals are used on our farm.