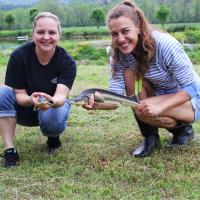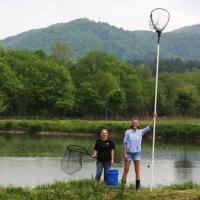 Marshallberg Farm
Address: 3232 Indian Grave Rd Lenoir, NC, 28645
Email Address: sabine@marshallbergfarm.com
Phone: 707-382-2944
About Us
Email: sabine@marshallbergfarm.com
Located in Happy Valley, 24 miles from High Country Food Hub

Marshallberg Farm owns and operates two Russian sturgeon farms in North Carolina: One facility on the central coast, and a second one in the mountains, about 300 miles apart. Marshallberg Farm is a family-owned business with 6 dedicated employees, who work hand-in-hand making the best Osetra caviar in the nation. In addition to being the primary source of caviar today, sustainable aquaculture of sturgeon is presently considered the most important component of wild sturgeon conservation programs. We take pride in our product AND our mission of helping wild sturgeon populations survive!


Practices
With recirculating aquaculture systems (RAS) facilities in both eastern and western North Carolina, Marshallberg Farm is the largest producer of Russian sturgeon and Osetra caviar in North America.
Our farm adheres to U.S. environmental standards, proudly producing superior quality Osetra malossol caviar and sturgeon meat through sustainable aquaculture of Russian sturgeon (Acipenser gueldenstaedtii). Our American caviar is pure, containing only sea salt and the finest hand selected Russian Sturgeon roe. We do not use hormones or antibiotics.